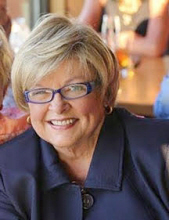 Obituary for Barbara Reed Maguire
Barbara 'B' Reed Maguire of Charleston, SC died peacefully on November 11, 2017 after having had the Whipple surgery in 2014 and a 3 ½ year struggle against Ampullary Cancer.

She was born in Charleston on November 4, 1950 to the late Dr. Daniel L. Maguire, Jr and Martha Dora Oliver Maguire.

Barbara struggled through twelve years of Ashley Hall School for Girls and graduated by the skin of her teeth in 1968. She went on to earn a Bachelor's Degree from Columbia College and was awarded a Master's Degree in Social Work from the University of South Carolina.

After working for DSS as a child abuse investigator and United Way as a Program Director, Barbara used her extensive and expensive education by dressing up as a clown and delivering balloon bouquets as the owner of Balloons Over Charleston. Her entrepreneurial skills led her to begin popping 33 flavors of popcorn as the owner of her successful Market Street shop, The Charleston Popcorn Place and later added a second shop, The Charleston Nut Place in the Gourmetisserie.

Over the years, B (as many of her friends called her) enjoyed her volunteer work with Hotline, Meals on Wheels, the adult Guardian ad litem program and Hospice, among others.

She is survived by her siblings: her brother, Danny and Darby Maguire, her sister Carole Maguire, her brother Bobby and Lucie Maguire, her sister Martha and Kevin Campbell. Her nieces and nephews are Martha and Walt Fletcher, Lucie Norvell and Greg Kramer, Robert and FanFan Maguire, Kevin and Alison Campbell, Suzanne and Ash Chisholm, many of whom have continued the family tradition of producing adorable, above-average children of their own. She is also survived by a Fambly of loving friends, and her very best friend and partner-incrime, Nancy Mattern.

Barbara chose to be cremated and that her ashes would be placed in a biodegradable urn where her life will be remembered in the form of a vibrant, living plant, completing the circle of life.

A funeral service for family and friends will be held at McAlister-Smith Funeral Home, 2501 Bees Ferry Road, Charleston, SC on Saturday, November 18, 2017 beginning at 4pm. Wine and Hamby's will be present.

In honor of her memory, Barbara hoped that you would pass it forward with an act of kindness in her name.

Expressions of sympathy may be viewed or submitted to www.mcalister-smith.com.

Arrangements entrusted to McAlister-Smith Funeral Home, West Ashley Chapel, 2501 Bees Ferry Road Charleston, South Carolina, 29414, 843-722-8371.
Previous Events
Visitation
McAlister-Smith Funeral Home West Ashley
2501 Bees Ferry Road
Charleston, SC 29414