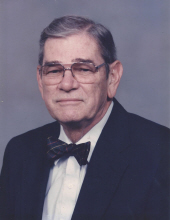 Obituary for Blake Fuqua Putney, Sr
Blake Fuqua Putney, 94, of James Island beloved gentleman, father, grandfather, and widower of Marie Putney, passed away on Tuesday, June 19, 2018.

Blake was born on July 16, 1923 in Farmville, Virginia to the late Samuel Waverly Putney and Annie Vaughn Putney. He grew up on the family farm outside Farmville and graduated from Farmville High School in 1940. After attending the Medical College of Virginia for two years he enlisted in the Army. During World War II he was stationed on New Guinea and Biak Island and was involved in the occupation of Manila, the Philippines and Yokohama, Japan at the end of the Pacific War. After the war, and his discharge from the Army, Blake completed his pharmacy studies at MCV. While in Richmond he met the love of his life and future wife, Marie-Louise Flinker. He subsequently earned his PhD in Pharmacy at the University of Minnesota. Blake and Marie were married in 1950. He became a professor at Rutgers University in Newark, New Jersey where he taught until 1967, when he took a position at the College of Pharmacy at the Medical University of South Carolina in Charleston. Blake and Marie raised three children in Charleston. Blake retired as Assistant Dean of the College of Pharmacy at MUSC in 1987. During his working years he was very involved at Martin Luther Lutheran Church. In his retirement he volunteered with the Friends of the Library, and was a Master Gardener, among many other pursuits. He and Marie travelled extensively including a raft trip down the Grand Canyon, and trips to Europe, Australia, New Zealand, and Japan. His generosity made a college education possible for his children and grand-children and this generosity extended to others as he endowed a scholarship at the MUSC College of Pharmacy in 2016. Having struggled with hearing loss throughout his life, he persevered even when faced with profound deafness in his later years. As he became more dependent on the care of others, he remained gracious and appreciative. His generous spirit and gentle nature would have made his Mother and Father proud.

His family would like to express their appreciation for Blake's many caregivers at Bishop Gadsden, who have treated him with respect and tender care.

Survivors include his sons, Blake F. Putney, Jr. (Marilyn), Thomas R. Putney (Anne); his daughter, Barbara P. Hildreth (John "one hell of a son-in-law"); grandchildren, Evan P. Hildreth (Brittany), Jesse D. Hildreth (Virginia), Leah M. Hildreth, Jennifer M. Putney, Samuel B. Putney, William R. Putney and Cynthia M. Putney.

In addition to his wife and parents, he was preceded in death by his seven siblings: Anne, Waverly, Will, Nellie, Meriwether, Myrtie, and Julian.

Burial will be at 1:30 PM on Friday, June 22, 2018 at Holy Cross Cemetery, 604 Fort Johnson Road, Charleston, SC 29412.

A Celebration of Life service will be held at 3:00 PM on Friday, June 22, 2018 at Martin Luther Lutheran Church, 1605 Harbor View Road, Charleston, SC 29412.
The family will receive friends following the service at the church.
Memorial donations may be made to the Dr. and Mrs. Blake F. Putney Endowed Scholarship Fund, c/o MUSC Foundation, 18 Bee Street, MSC 450, Charleston, SC 29425.

Condolences may be viewed or submitted online at www.mcalister-smith.com.

Arrangements entrusted to McALISTER-SMITH FUNERAL HOME, JAMES ISLAND, 347 Folly Road, Charleston, SC 29412, Phone: 843-614-8494.
Previous Events
Celebration of Life Service
Martin Luther Lutheran Church
Harbor View Road
Charleston, SC
Funeral Service
Martin Luther Lutheran Church
Harbor View Road
Charleston, SC
Cemetery Details
Location
Holy Cross Cemetery
604 Ft. Johnson Rd.
James Island, SC 29412