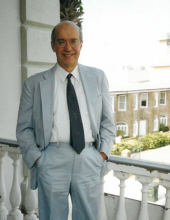 Obituary for Daniel Underwood Wilde
Dr. Daniel U. Wilde, 79, son of Arthur John and Ruby Dale (Underwood) Wilde, of Wilmington, OH, passed away on Sunday, July 9, 2017, He is survived by his loving wife, Helen Herrington Wilde, of Mt. Pleasant, S.C.

An internationally recognized expert in the field of computers, Dr. Wilde earned a BS in Electrical Engineering at the University of Illinois and a MSN and PhD at the Massachusetts Institute of Technology. He began his career as a computer engineering educator at Boston University and the University of Connecticut including authoring a book introducing computer technology. His most proud accomplishment was being Founder and Director of NERAC, Inc., Tolland, CT, a company that predated current search-engine technology which grew out of the NASA Industrial Application Centers. Among his other accomplishments, he was the recipient of the NASA Public Service Award, a Trustee of Engineering Index, Inc. and served on the Board of Directors of the International Council of Scientific and Technical Information. He was also active in many other professional organizations including ASIDIC and IEEE.

Traveling was one of his great lifelong passions and he circled the globe many times including a trip around the world for the millennial celebration. He was happiest when traveling with Helen in his father's home country of England, eating pasta in Italy, and when planning his next adventure. A steam-train enthusiast, he sought out any opportunity to look at, ride or even drive a locomotive in all the countries he visited. After retiring, he enjoyed celebrating many happy occasions with his wife, children, grandchildren and friends at the home he built on Sullivan's Island.

Also survived by four children, Cindy Piedmont Nypaver, Paul M. Piedmont, Jr., Edwin (Eddie) D. Piedmont and Mary Piedmont Funderburk, 11 grandchildren and two great-grandchildren.

A funeral service will be held on Wednesday July 12, 2017 at 11:00 am at McAlister-Smith Funeral Home , 1520 Rifle Range Road, Mt. Pleasant. Burial will follow in Mt. Pleasant Memorial Gardens.
The family will receive friends one hour prior to the service in the funeral home.

In lieu of flowers, the family ask that memorial contributions be made to the Miami Monthly Meeting (Miami is a Quaker [Friends] faith community), Post Office Box 731, Waynesville, Ohio 45068.


Expressions of sympathy may be viewed or submitted to www.mcalister-smith.com.

Arrangements entrusted to McAlister-Smith Funeral Home, Mt Pleasant, 1520 Rifle Range Road Mt Pleasant, SC, 29464, 843-884-3833.
Previous Events
Visitation
McAlister-Smith Funeral Home Mt. Pleasant Chapel
1520 RIfle Range Road
Mount Pleasant, SC 29464
Funeral Service
McAlister-Smith Funeral Home Mt. Pleasant Chapel
1520 RIfle Range Road
Mount Pleasant, SC 29464