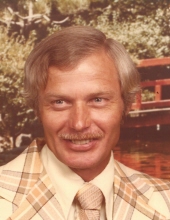 Obituary for Harry E Wertan, Sr.
Harry E. Wertan, 75, of Johns Island, passed away September 1, 2017.
Born in Charleston, he was the son of the late Frank and Erline Bennett Wertan and husband to Linda Williams Wertan. Harry graduated from Bishop England High School then went on to work for Sears, retiring in 1988 as the Manager of Sears Automotive. He was a member of Saint Barnabas Lutheran Church, South Carolina Eastern Surfer's Association, Islanders Shag Club and James Island Optimist Club.
Harry is survived by his wife, Linda Williams Wertan; children, Hal Wertan and wife Kimberly, David Wertan and wife Debbie, Robbie Wertan and Kristi Wertan; grandchildren, Nick, Gabrielle, Halle, Lilly, Reilly and Austin; sister, Jay Bee and husband Bob Jakob; brother, Larry Wertan and wife Terry.
A memorial service will be held Thursday, September 7, 2017 at 6:00 p.m. in MCALISTER-SMITH FUNERAL HOME, JAMES ISLAND CHAPEL. The family will receive friends prior to service from 5:00 p.m. until 6:00 p.m. in the funeral home and from 2:00 p.m. until 4:00 p.m. at the home, 1130 Holloway Court, Johns Island.
In lieu of flowers, donations can be made to Surfer's Healing of Folly Beach, P.O. Box 740, Folly Beach, SC 29439.
Expressions of sympathy can be submitted or viewed online at www.mcalister-smith.com.
Arrangements entrusted to McAlister-Smith Funeral Home, James Island Chapel, 347 Folly Road, Charleston, SC 29412, (843) 614-8494.