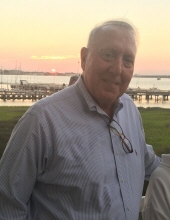 Obituary for Horace Case Cook, Jr.
It is with tremendous sadness that the family of Horace Case Cook Jr. (Sandy) announce his passing on Saturday, March 10, 2018. Horace left our world too soon, He was 73 years old. Horace was born in Philadelphia, PA on October 10th, 1944.

He was the only son of Horace Case Cook Sr. and Margaret Cook of Philadelphia. Horace will be forever remembered by his wife of 50 years Holly Sue Cook, two sons Jonathan (Richmond, VA.), Wife Barbara and Jeffery (Mt. Pleasant, SC.), wife Jennifer and four adoring grandchildren; Cameron (19), Gabrielle (16), Case (14), Emma (11). Horace was a loving husband, devoted father, adoring grandfather and a friend to all he came in contact with.

Horace met Holly in College at Carthage College in Kenosha, Wisconsin where Horace was a member of the first full graduating class in 1966 (Kenosha). Horace was the first member of his family to have graduated from college. Upon completion of college Horace served in the US Marines (reserves) and Horace and Holly were wed in 1967.

Horace spent a distinguished career in the pharmaceutical industry, spending most of his career with Glako Smith Kline. With GSK, Horace moved throughout the United States and spent time in Philadelphia, Yardley PA, Malvern PA., St. Charles, Ill., Scottsdale AZ, and his beloved Ocean City New Jersey.

Upon retirement, Horace and Holly moved to Ocean City NJ full time. After several year they decided it was time for warmer climates and moved to Venice Fla., where they spent about 10 years. In their time in Venice, Horace's passion was boating. He and Holly were active members of the Venice Yacht Club, where Horace served as Commodore of the Fleet from in 2008.

The family requests, in lieu of flowers, donations be made to either the Low Country Chapter of the Alzheimer's Associationhttps://alz.org/sc/ or the Salvation Army of Greater Philadelphia 4050 Conshohocken Ave, Philadelphia, PA 19131

The Cook family will be holding a private service in the near future.

Expressions of sympathy may be viewed or submitted to www.mcalister-smith.com.