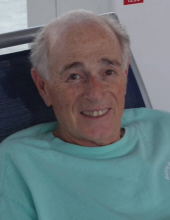 Obituary for James L. Pandolfi
James "Jim" L. Pandolfi, 71, of Isle of Palms, SC entered into eternal rest with his family by his side on Tuesday, October 3, 2017.

He was born on November 20, 1945 in Peekskill, New York to the Late Vincent C. Pandolfi and Alessandra (Musto) Pandolfi.

Jim was a graduate of St. Joseph's College, Rensselaer, IN with a Bachelor Degree, earned a Master's Degree from DePaul University, and pursued a lifelong career as a CPA. He was an avid golfer playing regularly at Wild Dunes, enjoyed sailing, telling witty jokes, traveling, and spending time with his family. Jim was a fan of the PGA, Chicago Bears and NY Jets. His family will remember him as a loving husband, son, father, brother, grandfather and dear friend to many.

He is survived by his loving wife of 26 years, Deanna L. Pandolfi, Isle of Palms, SC; Mother, Alessandra (Musto) Pandolfi, of Boca Raton, FL; three sons, James (Jennifer) Pandolfi, North Aurora, IL, Kenneth (Nikki) Pandolfi, of Tullahoma, TN, and John (Christine) Hemmingstad, of Elk Point, SD; daughter, Heidi (Mike) Becker, of Naperville, IL; two brothers, Eugene (Lee) Pandolfi, of Wolfeboro, NH, and Vincent (Lori) Pandolfi, of Wappingers Falls, NY; sister, Alice (Kenneth) DiPrima, of Gainesville, GA; ten grandchildren, Haley, Kylie, Ale, Joey, Ben, Michael, Lucas, Danny, Thomas and Sophia; special friend, Spumoni, and many loving nieces, nephews, and dear friends.

The family will receive friends on Thursday, October 5, 2017 from 5:00 to 8:00 PM at McAlister-Smith Funeral Home, 1520 Rifle Range Road, Mt. Pleasant, SC, 29464. The Prayer Vigil will begin at 5:15 PM.

The Rite of Christian Burial Service will be on Friday, October 6, 2017, 11:00 AM at Stella Maris Roman Catholic Church, 1204 Middle Street, Sullivan's Island, 29482. A Memorial Service will be held November 25, 2017 at 10:00 AM at St. Michael Catholic Church, Wheaton, IL.

In lieu of flowers, memorial donations may be made in his memory to the MUSC Foundation Cancer/HCC Prostate Cancer Research, 18 Bee Street, MSC450, Charleston, SC 29425 and/or the Catholic Diocese of Ijebu-Ode, 7811 Stonebriar Drive, Glen Burnie, MD 21060-8392.

Expressions of sympathy may be viewed or submitted to www.mcalister-smith.com.

Arrangements entrusted to McAlister-Smith Funeral Home, Mt Pleasant, 1520 Rifle Range Road Mt Pleasant, South Carolina, 29464, 843) 884-3833.
Previous Events
Service
St. Michael's Catholic Church
310 S Wheaton Ave, Wheaton, IL 60187
Wheaton, IL, SC 60187