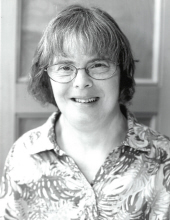 Obituary for Karen Susan Cullinan
Karen Susan "Susie" Cullinan of Charleston, SC, passed away at age 56 on Tuesday, April 3, 2018.

Susie was born on November 26, 1961 in Columbus, OH, daughter of Elberta Schirtzinger Cullinan and the late John Joseph Cullinan.

When they brought Susie home from the hospital, her parents introduced her to her brothers as being special – and she certainly was. Susie was an accomplished and well-rounded individual, taking joy in swimming, visual arts, latch-hooking, writing, word search puzzles and cuisine. She received awards for her dedicated work at Easter Seals and several gold medals in the Special Olympics. She traveled the world with her parents and had a deep understanding of life and the beauty that lies within every human being. Susie touched the hearts of everyone she met; she comforted, counseled and brought much joy to her family. She was and is their angel.

Susie will be deeply missed by her mother, Elberta Cullinan and brothers: Michael Cullinan (Katherine) of Columbus, OH; John Cullinan (Kathleen) of Charleston, SC; David Cullinan of Columbus, OH; James Cullinan (Olena) of Columbus, OH; Robert Cullinan (Jill) of Columbus, OH and all of her loving family and friends.

A Mass in celebration of Susie's life will be held at a later date in Columbus, OH.

Memorial contributions may be made to Special Olympics South Carolina, 109 Oak Park Drive, Irmo, SC 29063 or Easter Seals, 3020 Farrow Road, Columbia, SC 29203.

Expressions of sympathy may be submitted or viewed at www.mcalister-smith.com.

Arrangements entrusted to McAlister-Smith Funeral Home, West Ashley Chapel, 2501 Bees Ferry Road Charleston, South Carolina, 29414, 843-722-8371.