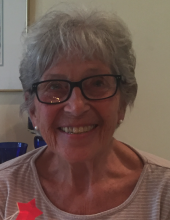 Obituary for Lorraine Rose Bukowsky
Loving wife, mother and grandmother, Lorraine Rose Bukowsky, 75, of Mount Pleasant, SC passed away peacefully on February 24, 2018.

She was born on June 26, 1942 in Chicago, IL of the late Joseph and Rose ( Pronobis ) Grazaske.

Lorraine studied at DePaul University in Chicago, IL, but she would not qualify it as a highlight of her life. Her lifetime highlights centered on her daughters, grandchildren, friends, volunteering, the arts, sewing, entertaining, gardening, family pets and hugging.

She was a Religious Education teacher for special needs children and volunteered in hospitals helping patients with poor diagnoses. She was an amazing seamstress who could rival Coco, Oscar or Dior; but she would concentrate on teaching and helping her daughters and grandchildren how to sew. An accomplished artist in all mediums, however would still call her work chicken scratches; and, then take her daughters or grandchildren to an art museum to see, in her opinion, some real artists. She loved to entertain rather than be entertained and to this day people will talk about Lorraine's parties. She also enjoyed her gardens and landscaping the flowers in the various areas of the yard. She was an avid hugger, and if you ever received a hug from her (everybody did), you knew you were wanted and genuinely liked. Her dog Nugget was dearly loved as well as all the family pets especially Butters, Sampson and the horses, (we think Doc was her favorite). Lorraine was passionate teaching her children and grandchildren about her love of Jesus. Her devoted faith was strengthened by the personal comfort she found in Mary, St. Joseph, St. Anthony, St. Jude and St. Padre Pio.

Survivors include her husband of 55 years, William Bukowsky; daughters, Eileen Hester and her husband Byron and their children Jordan, Jared, Jada and Joshua of Olathe, KS; Susanne Sprinkle and her husband Troy along with their children Alexis and Chesney of Wellsville, KS; Jayne Long and her husband Chris of Lewisburg, WV and her sister Joan Lietz of Greendale, WISC.

The family will receive relatives and friends on Sunday, March 4, 2018 from 3:00 PM-5:00 PM at McAlister-Smith Funeral Home, Mount Pleasant SC.

A Celebration of her life and a Funeral Mass will be held on Monday, March 5, 2018 at 1:00 PM at St. Benedict Catholic Church, 950 Darrell Creek Trail, Mt. Pleasant, SC.

In lieu of flowers, memorial donations can be made to: Heart to Heart International, PO Box 15566 Lenexa, KS; Roper St. Francis Foundation, Nursing Scholarship Program, 125 Doughty St.-Suite 790, Charleston, SC 29403; The Charleston Humane Society, 2455 Remount Road, North Charleston, SC 29406.

Expressions of sympathy may be submitted or viewed at www.mcalister-smith.com.

Arrangements entrusted to MCALISTER-SMITHFUNERAL HOME, 1520 RIFLE RANGE ROAD, MOUNT PLEASANT, SC 29464. ( 843 ) 884-3833.
Previous Events
Visitation
McAlister-Smith Funeral Home Mount Pleasant Chapel
1520 Rifle Range Rd
Mt. Pleasant, SC 29464
Funeral Service
St Benedict Catholic Church
950 Darrell Creek
Mount Pleasant, SC 29466
Memorial Contribution
Roper St. Francis Foundation, Nursing Scholarship Program
125 Doughty St
Suite 790
Charleston, SC 29403