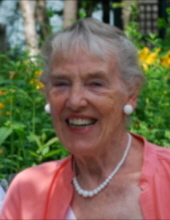 Obituary for M. Janice Place
M. Janice Place, beloved wife, mother, grandmother, great- grandmother, aunt and loyal friend, died peacefully on September 2nd, 2017, age 84, surrounded by her loving husband and family.
Janice is survived by her husband Geoffrey; her children Andrew Place, Nicholas Place (Pamela), and Susan Place Everhart (David), and son-in-law Steven Wilcher; her 7 grandchildren Heather Crucilla (Antony), Alexander Place (Christy), Naomi Everhart, Sara Everhart, Emma Place, Katherine Wilcher, and Aidan Place; and her 4 great-grandchildren Sienna Crucilla, Wesley Place, Cooper Crucilla, and Felicity Place. She was predeceased by her daughter Fiona Wilcher and her brother Cedric Entwistle.
Janice was born on May 19th, 1933 in Lancashire, England to Norman and Phyllis Entwistle. Janice attended Bedford Teachers Training College and became a physical education teacher. She met her beloved husband Geoffrey and they married on August 9th, 1955. Together with their 4 children they lived in Newcastle England, Brussels Belgium, and then moved to Cincinnati Ohio in 1968. In retirement, Janice and Geoffrey lived on Hilton Head Island, and then moved to the Bishop Gadsden Retirement Community in Charleston in 2006.
Janice was blessed by a life full of love, family, and adventure. She enjoyed nothing more than making memories and building traditions with her children and grandchildren, spending time at the family's summer home and garden in coastal Maine, sailing, kayaking, and planning international travel adventures with Geoffrey. A great supporter of the arts, Janice enjoyed theater, ballet, and cultural performance.
Committed to community service both locally and internationally, Janice volunteered countless hours and offered her organizational skills to many causes, including the Girl Scouts, the International Visitors Center, adult literacy programs, Meals on Wheels, Alzheimer's support, and coaching girls' high school field hockey. She was a lifelong member of the Anglican/Episcopal Church, and until recent years sang in the Grace Church choir and was a member of the bell choir.
Janice's love of life, strength of character, generosity of spirit, and respect and care for all people will continue to provide a shining example for all our lives.
A funeral service will be held on Wednesday September 6th at 2:00pm at the Chapel at Bishop Gadsden on James Island, SC. In lieu of flowers memorial donations may be made to the Bishop Gadsden Charitable Fund at One Bishop Gadsden Way, Charleston, SC 29412.
Expressions of sympathy can be submitted or viewed online at www.mcalister-smith.com.
Arrangements entrusted to McAlister-Smith Funeral Home, James Island Chapel, 347 Folly Road, Charleston, SC 29412, (843) 614-8494.
Previous Events
Memorial Service
Bishop Gadsden Chapel
1873 Camp Road
Charleston, SC 29412