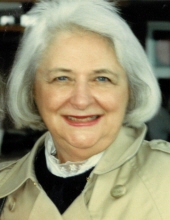 Obituary for Marian Rose Josef
Marian McVean "Tad" Josef, 94, of Franke at Seaside, Mount Pleasant, SC , formerly of Lorain, Ohio and Youngstown, Ohio, passed away on Wednesday, June 13, 2018, after a short illness.

Family and friends are invited to attend her visitation on Monday, June 18, 2018 at 10:00 a.m. - 10:45 a.m. and Catholic Mass at 11 a.m. at St. Edward Church, 240 Tod Lane, Youngstown, Ohio 44504, with burial immediately following at Calvary Cemetery, 248 South Belle Vista Ave., Youngstown, Ohio 44509.

Marian, "Tad", was born on March 15, 1924, at St. Elizabeth's Hospital in Youngstown, Ohio to the late Frederick Hubert McVean and Alice Meehan. She graduated from Rayen High School and attended Youngstown State University.
She worked at the Mahoning National Bank for many years and volunteered at Northside Hospital where she met her husband, the late Demetrio M. Josef, M.
D. They married while he was in his residency and she helped him set up his private practice on Gypsy Lane until they moved to Lorain, Ohio in 1970.

Tad loved to entertain, travel, cook and was a wonderful mother to her two children, Demetrio F. "Demmy" Josef and Alisa Josef Swift . Later, she was a doting grandmother to her three grandchildren, whom she adored. With a servant's heart, she was an Emeritus Member of the Junior League of Youngstown, member of the Little Flowers Garden Club of Youngstown, Lorain County Women's Medical Auxiliary, Colony Club and Mission Club. She was also a Eucharistic Minister at St. Joseph's Catholic Church in Amherst, Ohio.

Tad is survived by her son, Demetrio F. Josef, daughter, Alisa Josef Swift and her husband Steven E. Swift, M.D.; grandsons Josef Dylan Swift and Warren Brooks Swift and granddaughter, Taylor McVean Swift. She was preceded in death by her parents, Frederick and Alice McVean, a sister, Betty McVean, and her husband, Demetrio M. Josef.

In lieu of flowers, memorials may be made in her name to Catholic Relief Services at support.crs.org, by phone at 877-435-7277 or by check to Catholic Relief Services, P.O. Box 17090, Baltimore, MD 21297-0303.