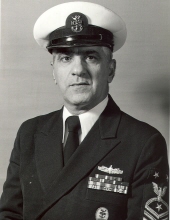 Obituary for Phillip Habib
Phillip Habib, 80, USN OSCM retired, of Goose Creek , South Carolina, passed away Sunday, October 22, 2017. He was born on October 3, 1937. Survivors include his wife of 54 years Barbara Habib, daughter Lisa Habib, daughter Monica Lee, son Greg Habib, and five grandchildren.

A U.S. Navy Two Bell Ceremony and a toast to the 30-year U.S. Navy veteran will be held on Saturday, October 28, 1 p.m., at the Fleet Reserve Association Low Country, Branch #269, 99 Wisteria Rd, Goose Creek, South Carolina 29445.

Donations may be made in his honor to St. Jude Children's Research Hospital or Habitat for Humanity of Berkeley County, South Carolina.

Expressions of sympathy may be viewed or submitted to www.mcalister-smith.com.
Arrangements entrusted to McAlister-Smith Funeral Home, Goose Creek Chapel, 869 St. James Avenue Goose Creek, South Carolina, 29445, 843-553-1511.