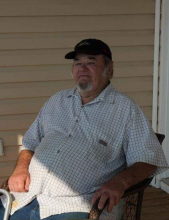 Obituary for Richard C. King
Richard C. King was born February 2, 1937 in Grampian, Pennsylvania to the late Walter and Esther King, and was preceded in death by 7 brothers and 2 sisters.

A coalminer, master mechanic, truck driver and jack of all trades, Richard C. King was a man who lived his life to the fullest.

Survivors include his wife Catherine Richardson-King; sons, Terry King, John King, Christopher Richardson and daughters, Brenda Ployd and Esther Whitted (Ernest), and grandchildren, Matracia Jean Ployd, Oskar Richardson, Jayonna King, Malachi King and sister, Donna McGuire.

Condolences may be viewed or submitted online at www.mcalister-smith.com

Arrangements have been entrusted to McALISTER-SMITH FUNERAL HOME, JAMES ISLAND CHAPEL, 347 Folly Road, Charleston, SC 29412, Phone: 843-614-8494.