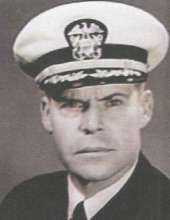 Obituary for Richard J. Laulor
Richard John Laulor passed away on Wednesday, August 30, 2017.

He was born on April 16, 1927 in phoenixville, PA to William Laulor and Mary Laulor.

Richard attended Phoenixville High School where he was on the National Honor Society and received the Reeves Award in his senior year. He lettered in football, basketball, and track & field. He entered the U.S. navy in April 1945, attended recruit training in Sampson, NY for 10 weeks, left San Diego, CA in June aboard a troopship in a convoy which arrived in the Philippine Islands on August 14, 1945, the day World War II ended. He served aboard the USS ARAYAT IX-134 in New Guinea and the USS DEUEL APA-160 in Yorktown, VA. Richard was discharged on July 29, 1946. He attended Wyoming Seminary, a prep school in Kingston, PA, from September 1946-June 1948, where he lettered in football, wrestling, and track & field. He was President of his class.

Richard entered the U.S. Naval Academy in June 1948. During the Winter Set of Midshipmen Officers in his senior year, he was Second Regimental Commander. He graduated on June 6, 1952. Richard served aboard USS WITEK EDD-848, attended Officers Submarine School, served aboard diesel submarine USS HALFBEAK SS-352, and served on teh staff of Submarine Squadron Eight in New London, CT. he retired as a Captain, USNR in 1987, having served in the U.S. Navy for 31 Years.

In 1957, he transferred to the Naval Reserve, entered Harvard Business School, majored in finance, and graduated with an MBA in June, 1959. He worked for investment banking firms and for Perkin-Elmer Corp. as a financial analyst. From 1972-1987, he worked for the Federal Government as a financial analyst and eventually as a Federal Budget Officer. He retired from the U.S. International Trade Commission in May 1987.

He married Helen Marie Harrell on May 25, 1974 in Senator Jacob Javits office in the U.S. Capitol Building. She passed away on June 19, 2016

He is survived by daughter, Cynthia Winter, grandsons, Alexander Laulor Winter, Renny Lee Winter; son-in-law, Larry Winter; stepchildren, Bryan Harrell, Chris harrell, Mark Harrell, Kristin Cousin; step great grandchildren, Cobi Harrell, Cali Harrell, Brayden Harrell, and Shane Harrell; many loving neices, nephews and friends.

Expressions of sympathy may be viewed or submitted to www.mcalister-smith.com.

Arrangements entrusted to McAlister-Smith Funeral Home, Mt Pleasant, 1520 Rifle Range Road Mt Pleasant, South Carolina, 29464.
Cemetery Details
Location
Arlington National Cemetery
Memorial Drive
Arlington, VA 22211