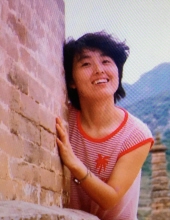 Obituary for Sukun Zhang
Sukun Zhang, 55, of Mount Pleasant, SC died, Sunday, October 29, 2017.
Born in Yingkou China to her father the late Zhong Zhang and her mother Fengjiao Tang. Sukun attended the prestigious Tsinghua University in Beijing, China and graduated with a master's degree in 1988. In 1992, she attended the University of Connecticut in the United States to obtain her Phd, in Chemistry and graduated in 1996. Sukun and her family made Charleston home and since 1996 she has held various positions at chemical firms, such as a Research Scientist, Director of Research and Development, and Director of Technology.
Sukun was very active and health conscious. She enjoyed playing sports and keep fit, like Tai-Chi, tennis, and even belonging to a local Jazzercise Club. Since an early age, she was always happy and loved to sing and dance. Sukun's social calendar was always full and her husband, Henry couldn't always keep up with her. She never met a stranger and many people in her life personally and professionally will miss her dearly. Sukun was an active member of Christ Church of Mt. Pleasant.
She is survived by her husband, Hongye (Henry) Yang of Mt. Pleasant SC; son, Oliver yang, a freshman engineering major at Clemson University; sisters Sumin Zhang of Beijing China and Suwen Zhang of Hunan Provence of China; brother, Shuyong Zhang of Ulanhot China; and her mother, Fengjiao Tang, also of Ulanhotm, China.
Visitation will be held Saturday, November 4, 2017 at 12:00 PM , at Christ Church, 2304 Hwy 17 N, Mt. Pleasant, SC. The Funeral Service will be held at 2:00 PM at the Historic Church of the Christ Church campus. Reception to follow in the parish hall after the service.
Expressions of sympathy may be viewed or submitted to www.mcalister-smith.com.
Arrangements entrusted to McALISTER-SMITH FUNERAL HOME, 1520 RIFLE RANGE RD, MT. PLEASANT SC 29464. 843-884-3833.
Previous Events
Visitation
Christ Church
2304 Highway 17 N
Mount Pleasant, SC 29466
Visitation will be held at the larger church on campus.
Funeral Service
Christ Church
2304 Highway 17 N
Mount Pleasant, SC 29466
The Funeral service will be held at the Historic Church following the visitation.