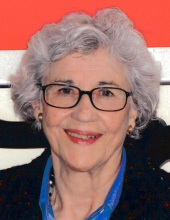 Obituary for Twyliah Hamstreet Kerr
Twyliah Hamstreet Kerr was born in Kansas City, MO on January 4, 1926. She was the daughter of Dr. Wilbur F. Hamstreet and Ann Watson Hamstreet, and was raised in the hamlet of Titonka, in Kossuth County, Iowa, where Dr. Hamstreet practiced medicine as a GP from an office in the family home.

As a young girl, Twyliah was an inveterate tomboy who loved to assist the county veterinarian, Doc Ball, who lived next door, with vaccinating hogs and tending to sick animals. She had a remarkable fastball, a tight spiral, and was a keen shot with her .22 rifle. She went on to Grinnell College, where she graduated in 1947 with a BA degree in English.

Following several years selling real estate in Mason City, Iowa, she moved to Washington, DC in 1951, and worked for two years at the Republican National Committee before moving on to the White House, where she spent three years as an assistant to James Haggerty, President Eisenhower's press secretary. In that capacity, she traveled with the President and the White House press corps and became a familiar face in the West Wing.

In 1956, while spending the weekend in Rehoboth Beach, DE, she was introduced to Robert Kerr, a New York banker, and they were married in New York City on December 21st, 1956. Three boys – William A. Kerr, Robert A. Kerr, Jr., and Alexander Knight Kerr followed, and the Kerrs lived happily in Tuxedo Park, NY. In 1968, Bob Kerr accepted a position as CEO of Winters National Bank in Dayton, Ohio, where the Kerrs lived until 1984, when they retired to a new home in Beaufort, SC.

Always tremendously energetic, Twyliah tended to the family, while at the same time competing in tennis, paddle tennis, and golf and also devoting her time to a number of volunteer activities. She chaired the Dayton chapter of Visiting Nurses and sat on the boards of United Way and the Dayton Orchestra. While in Beaufort, she was a board member of the Open Land Trust and the Beaufort Arts Council, and served as a docent at St. Helena's Church. She loved current affairs, traveling, her dogs, reading, listening to music, and watching tennis. Most of all, she loved to laugh and spend time with friends and family.

She leaves behind her three sons – William (Catherine) of New York and Charleston, Robert (Elizabeth) of Mount Pleasant, and Alexander (Alexandra) of Los Angeles, and four grandchildren – Will of New York City, Sarah of New York City, Robert of Washington, DC, and Lily of Los Angeles.

The family would like to thank her devoted caregivers at Bishop Gadsden, the Medical University of South Carolina, and Hospice of Charleston. In lieu of flowers, donations in her memory may be made to the Bishop Gadsden Employee Appreciation Fund, 1 Bishop Gadsden Way, Charleston, SC 29412.
Previous Events
Service
Bishop Gadsden Chapel
1873 Camp Road
Charleston, SC 29412