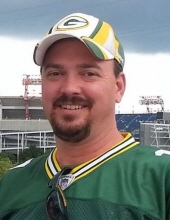 Obituary for Andrew Brady Earley
Andrew Earley, age 46 of North Charleston, passed away at Bon Secours St. Francis Hospital after his battle with cancer on October 4, 2018.

He was born on August 20, 1972 in Rome, NY to John & Rosilyn (Beard) Earley of Alcolu, SC. In high school he was a member of Sumter High School Cross Country and Pole Vaulting team. He received an associate's degree in Criminal Justice from Sumter Technical College. On May 10, 2014 he married Rebecca Lynn Hollandsworth. Andrew and Rebecca enjoyed doing many things together including fishing, traveling, running, playing kickball, and watching sports. Andrew was a loving husband, father, son, brother, and friend to many. He brought joy and smiles to all who knew him.

Andrew is survived by his loving wife, Rebecca Earley, and daughter, Isabelle Caitlyn Earley, parents John and Rosilyn Earley, brothers John (Sylvia) Earley and Russell Earley, and many aunts, uncles, and cousins.

Friends and family are welcome at the Earley residence in North Charleston. A memorial service will be held to celebrate Andrew's life on Friday, October 19, 2018 at 2pm at McAlister-Smith funeral home in West Ashley, SC. There will also be an additional celebration at Charleston Sports Pub in West Ashley following the service.

Arrangements have been entrusted to McALISTER-SMITH FUNERAL HOME WEST ASHLEY, 2501 BEES FERRY ROAD, CHARLESTON, SC 29414, 843-722-8371.
Upcoming Events
Memorial Service
McAlister-Smith Funeral Home West Ashley
2501 Bees Ferry Road
Charleston, SC 29414