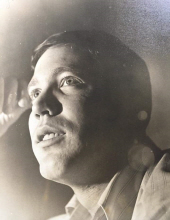 Obituary for Reginald Theodore Baggott
Reginald "Reggie" T. Baggott, age 70, went to his eternal home Sunday, November 19, 2017, ending a long struggle with lung cancer. He had family and friends with him to the end.
Born in Charleston, SC, he was the youngest son of James Ernest Baggott and Coila Roberta Tart. While attending Chicora High School, he met the love of his life, Anna Elvira Williamson, and they were married September 10, 1965. He then joined the Air Force, and attended school for electronics, and was stationed in Turkey. After his service in the Air Force, he was a salesman/manager at Radio Laboratories, and then a partner at Charleston Paint Company. Later, he opened his own paint store, Ashley Paint and Home Care. No matter where he worked, Reggie loved talking to people. He genuinely cared for those he met and served.
He leaves behind his "Darlin" wife, Anna E. Baggott, his son Tim (Leslie) Baggott, daughter Shelley Noisette, son Danny Baggott, and daughter Kimberly Baggott. His cherished grandchildren: Adam, Keri, and Rachel, Tara and Rebecca, Jordan, Paris Ann, and Cristobal, as well as a beloved stepmother Violet Baggott Burns, cherished former daughter-in-law Claudia Hess Baggott, and former son-in-law Billy Noisette, and many nieces and nephews, cousins, extended family and friends.
He is predeceased by his father Ernest Baggott, mother Coila Tart, stepfather E.J. Tart, and his brother, Ripon (Brigitte) Baggott.
Reggie pursued many passions, but was best known for his love of Christ, and taught Sunday School for many years. He took this role seriously and would spend hours studying and preparing for his lessons. Years ago he met a Deaf man, and realized that their language barrier prevented him from discussing their love of God, so he learned sign language from him, took classes, and was mentored by several interpreters. He then interpreted at Ashley River Baptist Church and Charleston Baptist Church, as well as in the community.
He also loved dogs, and could not walk past a furry friend in need of a home. During his last extended stay in the hospital, he had many therapy dogs come to visit, but he longed for his own. Near the end, his smallest dog, Taz, was brought to cuddle with him several times.
He was also thrilled at having any rusted out, antique car to restore. He loved discussing the ins and outs of finding parts with his friends. Each new project that he hauled in presented a challenge and bonding moments with his car-loving friends.
Among all of his passions and pursuits, he always made sure to maintain his focus on his family. He did his best to provide for and teach his children and grandchildren the love of Christ and the important things in life. Holidays were special to him, and he loved making them a magical time for his loved ones. His love for his family was always evident, and he strived to be a good husband, father, and grandfather.
Previous Events
Visitation
Charleston Baptist Church
13 San Miguel Road
Charleston, SC 29407
Celebration of Life Service
Charleston Baptist Church
13 San Miguel Road
Charleston, SC 29407
Cemetery Details
Location
Carolina Memorial Gardens
7113 Rivers Avenue
North Charleston, SC 29406