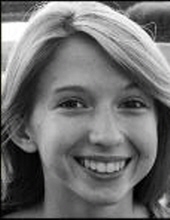 Obituary for Rebecca Bryan Saady
Rebecca Bryan Saady Mt. Pleasant - Rebecca Bryan Saady died quietly at home surrounded by loved ones on Friday, Dec. 22, 2017, in Mount Pleasant, SC. She was 18.

Rebecca was born on April 23, 1999, in Hagerstown, MD, to Mary and Tom Saady, and grew up in Mount Pleasant. She graduated from Wando High School in Mount Pleasant and was a freshman at College of Charleston. She had a big heart and was a steadfast champion of the disadvantaged through her everyday acts of kindness. Her pure outlook on life and of others deeply impacted those around her.

Rebecca is survived by her parents, Mary and Tom Saady, of Mount Pleasant; her sister, Elizabeth Saady, of Washington, DC; her brother, John Saady, of Charleston; her grandmothers, Audrey Coward, of Mount Pleasant, and Elizabeth Saady, of Chester, VA; her grandfather, Thomas John Saady Jr., of Richmond; her uncles, Kenneth Saady, of Midlothian, VA, Doug Saady, of Richmond, VA, and Walt Geiger, of East Berlin, PA; her aunt, Anne Geiger, of East Berlin; and her cousins, Abigail Geiger, of DC., Mary Olin Geiger, of Boiling Springs, PA, Thomas and Kate Saady, of Midlothian, McKenna, Tyler and Melissa Saady and Caroline and Eva Saady.

Services will be private.

Memorial donations can be made to the Charleston Animal Society, 2455 Remount Rd., North Charleston, SC 29406.

Arrangements entrusted to McAlister-Smith Funeral Home, Mt. Pleasant.