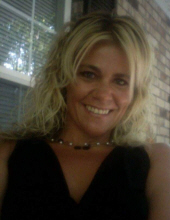 Obituary for Jennifer Danielle Harden
Jennifer Danielle Harden, 40, of Summerville, SC, loving mother to Victoria Nichols, Hunter Harden, and Hannah Harden, entered into eternal rest on Friday, June 1, 2018.

Danielle was born in Charleston, SC on April 1, 1977, daughter of Diana Baker and the late Richard Kistler Perry.

She attended James Island High School and was raised in the Charleston area. As a daughter, she loved planning family get-togethers for her parents, brothers, and sister.

She is preceded in death by her loving father, Richard Kistler Perry and grandparents, Ethel and William Jourdain.

She is survived by three children: Victoria Nichols of Charleston, SC; Hunter Harden of Summerville, SC and Hannah Harden of Summerville, SC (their father Hank Harden); her mother, Diana Baker of Charleston, SC; sister, Judy Filosa of Mt. Pleasant, SC; brothers: David Perry of Mt. Pleasant, SC and Jason Perry (Melissa) of Jacksonville, Florida; nieces and nephews: Alison Filosa of Charleston, SC; Nicholas Filosa (Maria) of Charleston, SC; Matthew Filosa of Mt. Pleasant, SC; and Jaxson Perry, Henry Perry, and Franklin Perry of Jacksonville, FL; and many cousins, aunts, and uncles.

A memorial service will be held at 11:00 AM on Monday, June 11, 2018 at McAlister Smith Funeral Home West Ashley, 2501 Bees Ferry Road, Charleston, SC.

McAlister-Smith Funeral Home, 1520 Rifle Range Road, Mt. Pleasant, SC 29464, 843-884-3833.

Expressions of sympathy may be viewed or submitted to www.mcalister-smith.com.