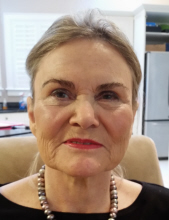 Obituary for Rachel L. Strickland
Johns Island -Rachel L Strickland, devoted mother of two, grandmother of 6, and widow of the late George C Strickland, laid down her burdens on the morning of Wednesday, July 25, 2018 and went to be with the Lord Jesus Christ and God The Father, whose peace surpasses all understanding. She is survived by her two children, Brandy Keener (John) and Lee Strickland (Nicole), her brother John D Long, her sister Beverly McCain, and her six grandchildren, Kendall, Austin, Cary Ellis, Jacob, Ty, and EliYah, whom she loved dearly.
Rachel was born on January 3, 1946 in Loris, SC to Venoy and Esper Long and was raised in the small town of Longs, SC, which was founded by her grandfather. After farming for some years, Rachel's mother operated the general store in Longs while Venoy provided mechanic services to the town's folk. Rachelle was a believer in Jesus, raised a Methodist, and played piano in her small-town church growing up. Later, she was a cheerleader at Loris High School before meeting the handsome Citadel graduate who married her and moved her to Charleston not long after his 1961 graduation from the historic military college of South Carolina. Rachel's marriage to George endured for 54 years.
A true "girly girl" with childlike charm and deep compassion for people and animals, Rachel was a traditional Southern lady whose "bubbly" personality radiated an endearing femininity and a true sense of caring. She made many friends in her younger years and kept an immaculate home for her children, despite having raised several pets along the way, including no less than 5 German Shepherds and several cats. Rachel knew the love of beautiful things and passed it on to others. To say that she loved to shop would be an understatement. In her mid-life years, Rachel turned her distinctive eye for fashion and design into a profitable venture, crafting and selling custom jewelry for Rachel's Rocks before ultimately developing health problems her in her later years. But more than anything else, Rachel was uniquely and passionately devoted to her children and deeply loved her grandchildren, who noticeably brightened her world when they entered her presence. Rachel was fondly loved even by her children's friends and forged a deep and lasting friendship with her daughter-in-law Nicole.
Tears are shed now over Rachel's passing, but those tears are not truly for her, as her loved ones trust that she is truly in a better place now. The tears are for ourselves as we fondly reminisce while temporarily separated from a dear mother, sister, aunt, neighbor, and friend whose captivating smile will always be remembered.
Visitation will be held Wednesday August 1, 2018 from 5PM-7PM at McAlister-Smith Funeral Home, 347 Folly Rd. James Island. Funeral services for Rachel will be at 1 PM on Thursday, August 2 at James Island Baptist Church, 2023 Wappoo Drive, Charleston, SC, 29412. Interment will be held at Holy Cross Cemetery.
To share a memory, or leave a condolence please visit www.mcalister-smith.com. Arrangements entrusted to McAlister-Smith Funeral Home, James Island.
Previous Events
Visitation
McAlister-Smith Funeral Home, James Island
347 Folly Road
Charleston, South Carolina 29412
Celebration of Life Service
James Island Baptist Church
2023 Wappoo Drive
Charleston, SC 29412
Cemetery Details
Location
Holy Cross Cemetery - James Island
604 Ft. Johnson Road
Charleston, SC 29412