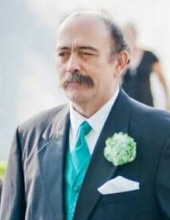 Obituary for Christopher David James
Christopher David James "CJ", 63, of Goose Creek, South Carolina passed Monday, April 16, 2018. He was born on March 14, 1955 in Philadephia, Pennsylvania to Benjamin and Ailsa (Cadaria) James. CJ was originally from Levittown, Pennsylvania and was a member of the Alpha Chi Rho fraternity at East Stroudsburg University, class of 1977. He loved music, the saxophone in particular, the Philadelphia Eagles, American history, and of course, his family and friends.

Survivors include his wife, Irene James; his daughters, Leann James, Erika James, Anamarie James-Cunningham, and Jennifer James; three adopted daughters, Danielle Rowe, Christina Rowe, and Angela Rowe; eight grand children; his sister, Dolores Davis-Ringer; as well as many other adopted children and many nieces and nephews. He was preceded in death by his parents, Patricia Rowe, and two grandchildren.

The Celebration of Life Services will be held at a later date at New Beginnings Christian Church, 10054 Highway 78, Ladson, South Carolina, 29456.

In lieu of flowers, memorial donations may be made to the National Kidney Association and the American Diabetes Association.

Expressions of sympathy may be viewed or submitted to www.mcalister-smith.com.
Arrangements entrusted to McAlister-Smith Funeral Home, Goose Creek Chapel, 869 St. James Avenue Goose Creek, South Carolina, 29445, 843-553-1511.