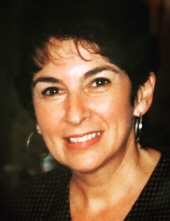 Obituary for Ramona Tepper
Ramona "Dr. Honey Bunny" Tepper Isle of Palms SC

Ramona, "Dr. Honey Bunny" Tepper passed away on July 9, 2018 at the age of 70. After a short battle with pancreatic cancer, she died peacefully supported by Hospice of Charleston, surrounded by loving family and friends. A Celebration of Life Service will be held at Temple KKBE in Charleston on Friday July 20th 2018 at 1:00pm. The family will receive friends at a reception following the service.

Ramona was born in Brooklyn NY and was the daughter of Leonard Tepper and Shirley Lefkowitz, both deceased. Ramona was a spirit of many talents and held a B.A. from Brooklyn College, a Master's Degree in Speech and Language from New Mexico State University, and a PhD. from Texas Women's University. Showing her strong will and determination, she went back for her PhD. at age 47. Ramona was a Professor at TWU and enjoyed her work training other Speech and Language Pathologists and especially loved helping children with speech difficulties.

Ramona a.k.a. Dr. Honey Bunny, was a clown with Bumper T Caring Clowns and enjoyed bringing laughter and smiles to patients at all the Charleston Hospitals. She especially liked being with children and people in infusion therapy. Ramona was chosen as Bumper T Caring Clown of the year in Charleston for 2018. In addition to being a volunteer clown Ramona loved music, dancing, reading, and writing poetry. She had several poems published and read them at poetry slams. She had a joyous spirit and sense of humor, with a great laugh that was infectious.

Ramona is survived by her husband, Bruce Chodosh; a daughter Ingrid Caswell of Los Angeles; sons Paschal Gay of Murrieta CA; Jesse Gay of Denton TX; Step-daughter Temra Wollman of Scarsdale NY; Step-son Brandon Chodosh of Deptford NJ; and a brother Jed Tepper of Florence SC. She loved and adored her 7 grandchildren: Bryce Caswell, Roxy Caswell, Myla Wollman, Eddie Gay, Aaron Wollman, Jaxon Gay, and Myla Gay.

Memorial donations can be made to the Pancreatic Cancer Foundation and the Bumper T Caring Clowns of Charleston.

Arrangements entrusted to McALISTER-SMITH FUNERAL HOME, Mt. PLEASANT, 1520 Rifle Range Rd., Mt. Pleasant, SC 29464, Phone: 843-884-3833.