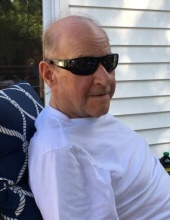 Obituary for Roger Edward Kunkel
Roger Edward Kunkel, of 503 Tram Boulevard, Summerville, SC, formerly of 1706 East Sixth Street in Merrill, WI, passed away November 19thth, 2017 surrounded by family under the care and comfort of Hospice of Charleston. Roger was born on October 20th, 1936 in Merrill, WI. Son of the late Edward Kunkel and Mildred (Gremler) Kunkel. He married Nancy A. Pankow on August 15, 1959 in Pine City, Minnesota. Nancy preceded Roger in death on October 25th, 2016.
Roger grew up in Merrill and attended St. John's Lutheran School through 8th grade. He attended Merrill Senior High School through 12th grade. At the age of 15 Roger would go to work at a resort on the Rainbow Flowage, an experience he spoke of often. He also worked at the former Golden Arrow Lanes in Merrill as a pin setter, during his High School years. Roger enlisted in the United States Navy in 1954 and was honorably discharged in 1957. He served aboard the submarines USS Tilefish SS 307 and the USS Catfish SS 339. Roger was qualified in submarines and earned his Submarine Dolphins insignia in 1955. He was very proud of his qualification and his service. Both of his sons would go on to serve in the United States Navy as well, and both became submarine qualified. His Grandson, Kellin Kunkel, is currently serving on active duty in the United States Navy. Upon his return from the Navy Roger bought a Harley-Davidson '45 and I am told he and Jerry Kunkel would race their motorcycles from East Main Street out into Pine River. Roger worked several jobs including Semling-Menke, Trego Transfer, Dupke Awnings and even a stint as a Fuller Brush Salesman. In 1966 he went to work at the Ward Paper Mill and worked there until his retirement in 1996. He also worked at Peterson & Latzig Evergreens in the fall for many years with his wife Nancy. He then worked at Peterson & Sons Gravel until he permanently retired. He was fond of the camaraderie with folks he worked with at Petersons.
He enjoyed fishing, including ice fishing, hunting, camping and cross country skiing. Let's not forget he enjoyed having a few beers and an aberguten from time to time, including listening to classic country music. He always enjoyed when his sons and grandsons would come home for "deer hunting" in November. He and Nancy always enjoyed their trips to the casino, win or lose. Roger was the primary caregiver to his wife Nancy for many years, as she became incapacitated. Never complaining, he continued to diligently provide this care up until March, 2016.
Roger will be remembered as a giving, caring, and hard-working man, whose work ethic was beyond reproach. He was always ready to lend a helping hand to family and friends. He was a fan of the Merrill Bluejays, Wisconsin Badgers, Green Bay Packers, and Milwaukee Brewers. In November of 2016 Roger moved to South Carolina to be with his sons. During this time he was able to spend some time with his grandchildren. The real twinkle in his eyes came when his great-grandson Keller was born last spring. He loved to see Keller. Roger even made a couple of trips to Harrah's Casino in Cherokee North Carolina during his stay with his sons this past year. While Roger was not well during the past year, the family cherished having him with us. During this time they had fun getting accustomed to his fun nature and learned a few of his "one line zingers". Quick wit was a specialty of his.

Roger is survived by his sons; Kevin J. Kunkel and wife Cindy Kunkel of Summerville, SC; Kal Kunkel and girlfriend, Jane Morgano of Taylors, SC; grandchildren; Adam Kunkel and wife Krysta of N. Charleston, SC, Keidrian Kunkel of N. Charleston, SC, Karlie (Kunkel) Scott and husband Stephen Scott of N. Charleston, SC, and Kellin Kunkel and wife Sydney of Norfolk, VA; a great grandchild Keller Kunkel, son of Adam & Krysta Kunkel; as well as his sister, Carol Krause Merrill, sister Kathy Kunkel Frederick (Jack) of Wausau, WI. Mike Kunkel (Sue) of Merrill WI, Mary Kunkel Pike (Bob) of Merrill WI, Betty Kunkel Ohloff (Dick) of Tomahawk WI, and Gloria Kunkel of Tomahawk WI. He is further survived by a brother-in-law Don Fechner (Marlene) of Merrill, WI; as well as many nieces and nephews. Roger is preceded in death by his parents Edward & Mildred Kunkel, great-granddaughter Kamryn Kunkel (infant), daughter-in-law Joni Kunkel (Krueger), and grandson Andrew Kunkel and his Brother Bob Kunkel, brother-in-law Roger Krause and sister-in-law Marlene Fechner.

We are thankful to the kind Doctors and caregivers at the Medical University of South Carolina, especially Dr. Gourdine and his team, and the caring staff at Hospice of Charleston. We are thankful to all of you who have called or sent cards to Roger over the past year as he cherished them all. Please make any memorials to the charity of your choice in Roger's name. Services will be held at a later date and we will notify family and friends. Thank you to McAlister-Smith Funeral Home for assisting the family with arrangements.

Expressions of sympathy may be viewed or submitted to www.mcalister-smith.com
Arrangements entrusted to McAlister-Smith Funeral Home, 869 St. James Avenue, Goose Creek, SC. 843-553-1511.