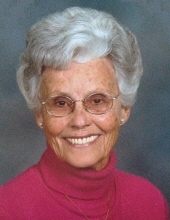 Obituary for June Marie Creamer
June Marie (Lockett) Creamer, 83, of Charleston, South Carolina, formally of Somerset, MA. passed away, Friday, December 22, 2017 after declining health. She was born on June 6, 1934 in Fall River, Massachusetts to John and Gladys (Lockett) Cummings.

June was known as "Miss Sunshine" from a young age offering a warm smile and greeting to everyone she met. In her youth she had a natural stage presence, taking speech elocution lessons where she later delighted audiences with her performances, which she could recite from memory even into her later years. She also enjoyed crocheting, needlepoint and baking. Rather than pursue a stage career, June decided to become an RN, and attended the former Union Hospital School of Nursing in Fall River, Massachusetts where she would later meet her husband and raise three children. After choosing a career as a stay at home mom, at the age of 50 she went back to school to earn her B.A. in Religious Studies at Caldwell College in NJ, and in 1991 received her M.A. in Pastoral Ministry at the Immaculate Conception Seminary School of Theology, Seton Hall University in NJ, graduating Magna Cum Laude. Combining her theological background with her nursing experience, June found a new vocation through Planned Parenthood in Morristown, NJ providing compassionate care and counseling to her patients. She dedicated most of her life to volunteer work with many organizations including the Daughters of Isabella, the American Association of University Women, and the Red Hats Society. As part of her ministry work she served as a CCD Catechist, Lector, and Eucharistic Minister to the sick and bereaved. She gave generously to those in need and lived her daily life grounded in the messages from the "The Sermon on the Mount".

She will be missed greatly by her three children which includes; Captain Stephen J. Creamer of Hawaii, Elizabeth A. (Creamer) Brisson and her husband Roger of Vermont, and William L. Creamer of South Carolina. Plus her 4-legged companion, Buddy. She also leaves many nieces and nephews. She was preceded in death by her husband of over 50 years, Harold L. Creamer Jr. and two sisters, Gladys Ruth Schofield and Margaret Parker, both of Somerset, MA.

A Celebration of Life Service will be held in Fall River, MA in the spring.

In lieu of flowers, please remember June by sharing a warm smile with a stranger and never underestimate the difference you can make in someone's life.

Expressions of sympathy may be submitted to www.mcalister-smith.com. Arrangements entrusted to McAlister-Smith Funeral Home, Goose Creek Chapel, 869 St. James Avenue Goose Creek, South Carolina, 29445, 843-553-1511.