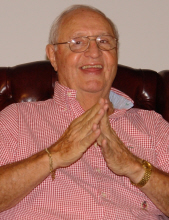 Obituary for Ira Harrison Phillips
Ira H. Phillips, died peacefully, at 90 years old in Mt. Pleasant, SC on May 25.

Born in 1927 in the Bronx, to Sophie and Maurice Phillips, Ira was a true New Yorker.

Ira and Selma settled into a home on Long Island, where they raised their children, Toni, Todd, Nina (who predeceased him) and Gene. It was here that Ira's illustrious career began. To say that he was an incredible salesman is, at best, an understatement.
Ira joined the Quoizel Lighting Co. in 1964; within months he met the sales targets required for him to gain a partnership interest in the company. Ira was a true force of nature. Over the years he bought out his partners and built Quoizel into the preeminent national firm that it is today. His success was largely due to his ability to understand and care about his customers. While Quoizel was clearly important to Ira, family was as well. He was proud that his children, several grandchildren and other relatives worked tirelessly in the family business.

In the 1970's Ira met his true soul mate, Nila Clark. What seemed like an odd pairing, the consummate New Yorker and a girl from the hills of West Virginia, turned out to be a romance for the ages.

They were enthusiastic supporters of the Israel Tennis Center and their fundraising efforts profoundly impacted the sport in Israel. In addition to his children, Toni (Lee), Todd (Kaye) and Gene (Amy), Ira is survived by six grandchildren and two great-grandchildren, who he adored.

While we have lost a true dynamo, his spirit and values will live on through all that have known him. We hope that he is now reunited with his beloved Nila in heaven. Rest in peace Ira.

A memorial service will be held on Wednesday, May 30, 2018 at 2PM; at the Chabad of Charleston & The Low Country, 477 Mathis Ferry Rd, Mt. Pleasant, SC 29464.

Donations in Ira's memory can be made to the Chabad of Charleston or the VHL Alliance.

Expressions of sympathy may be viewed or submitted to www.mcalister-smith.com.

Arrangements entrusted to MCALISTER-SMITH FUNERAL HOME, 1520 Rifle Range Road, Mt Pleasant, SC 29464, (843) 884-3833.
Previous Events
Celebration of Life Service
Chabad of Charleston & The Low Country
477 Mathis Ferry Rd
Mt. Pleasant, SC 29464