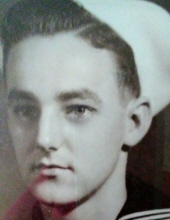 Obituary for John "Jack" Appleby Toole
Jack Toole, World War II veteran, of Charleston South Carolina and formerly of North Canton, Ohio, died on August 21, 2018, surrounded by his loving family. He was 92.
Jack was born on June 10, 1926 in Brazil, Indiana to Carl and Catherine Toole. The family later moved to Downers Grove, Illinois and then settled in Valparaiso, Indiana. His dad died when he was just 10, so he willingly worked a number of jobs as a kid to help support his family.
He enlisted in the US Navy at age 17, leaving high school early in the senior year. He attended basic training at Great Lakes Naval Training Center, and then completed specialized radio / code training in Oxford Ohio and Washington DC. After spending several weeks training with a marine unit in Hawaii, he shipped out to Guam in the summer of 1944. He was stationed there with the 3rd Marines for the duration of the war, part of the force which liberated Guam from the Japanese.
Returning home, he finished high school, started college at Valparaiso University and began dating his future wife, Mary Margaret Nolan. They were married on June 10, 1947, which he always referred to as the best thing that ever happened to him. He graduated from DePauw University in Greencastle, Indiana in 1951.
After graduation, he began his career working as a sales manager for the Sunbeam Company. Five years later, he joined the Hoover Company, eventually relocating to North Canton, Ohio in 1957. During his 32 years with Hoover, he served as national manager of sales training and director of special markets.
Jack was both an avid and accomplished athlete for most all of his life. He played fast pitch softball and basketball for a number of years, in fact leading fast breaks down the basketball court well into hours 40's. He also enjoyed golf, tennis and bowling; playing golf until he was 86. Jack was a devoted Cubs fan, watching the games every day until the day he died.
He is predeceased by his parents and his wife, Mary who died in 2003. They were married for 57 years.
He is survived by his children, Dave (Kathy)Toole of Huntington Beach, California and Patricia Toole of Charleston ,South Carolina; sister Peg Steinert of Enfield, Ct.; grandchildren, Colleen(Kelly Sather)Toole, Drs.Casey(Mandi)Toole, Jodi (Tony)Traeger, Laura (Ryan)Benware and Bryan (Ansley) Sluss as well as six great-grandchildren.
In so many ways, Jack was a perfect example of America's Greatest Generation.
In lieu of flowers, donations may be made to: Navy Marine Corps Relief Society,875 N.Randolph St., Suite 225 Arlington, Va. 22203. (www nmcrs.org)
Expressions of sympathy may be viewed or submitted to www.mcalister-smith.com.
Arrangements entrusted to McAlister-Smith Funeral Home, West Ashley, 2501 Bees Ferry Road Charleston, South Carolina, 29414, 843-722-8371.
Previous Events
Gathering
Ashley River Plantation
2333 Ashley River Rd.
Charleston, South Carolina 29414